Hello, Today is a sad day for Boston Red Sox's fans like myself, Our beloved Captain Jason Varitek is announcing his retirement. Jason contributed so much to the team. His talent as a catcher allowed him to work with the pitchers like no one else, he brought out the best in them and in the rest of the team. His passion and love for the game helped lead the team to the first world championship in 86 yrs, helped us to reverse of the curse! That passion and love being so apparent to everyone earned him the title of Captain, and he served his title well for his remaining years. The 2004 season was the most exciting time I can ever remember watching the game. I stayed up many nights till 1:00 in the morning watching the games as they went into overtime, watching the biggest comeback of all time in a playoff series, against our rivals the Yankees, I mean could it get any better than that, no, not a chance! So from me and all of Red Soxs Nation, Thank You Captain, you will be missed.
Thanks for visiting,
Janet :)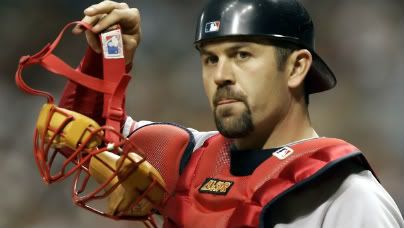 Boston Red Sox catcher and team captain Jason Varitek will announce his retirement on Thursday. Varitek is expected to remain involved within the Red Sox organization in some capacity. In fifteen seasons, Varitek earned two World Series rings, 1 Gold Glove, 1 Silver Slugger and 3 All Star appearances. He also accumulated 1,307 hits, 193 home runs while posting a .256 avg.